UKZN's KwaZulu-Natal Research Innovations and Sequencing Platform (KRISP) in collaboration with Thermo Fisher Scientific held a one-day Science, Technology, Engineering and Maths (STEM) training session for Grade 11 pupils and students on basic Polymerase Chain Reaction (PCR)
BY Gugulethu Mkhize, 18 October 2018.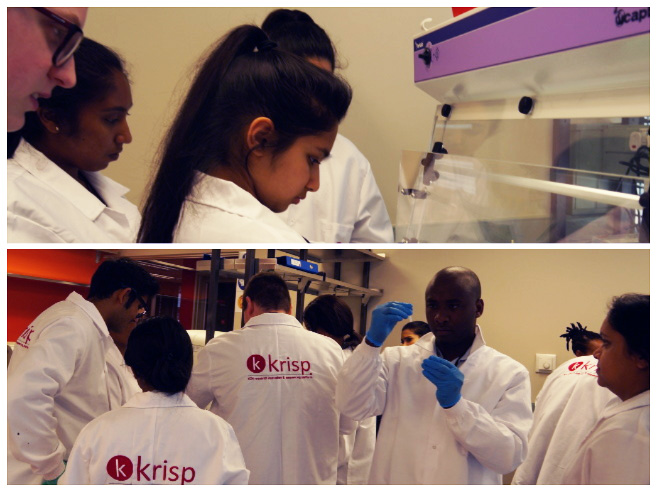 Participants receiving practical training in a state-of-the-art science lab at KRISP
Participants were briefed on the basics of PCR and also extracted DNA and created thousands of copies of genes using Thermo Scientific™ Direct PCR kits designed to deliver ultimate convenience by allowing PCR directly from crude samples.
As part of UKZN STEM Education, the training is designed to encourage participants to follow science careers as well as lay a foundation for individuals starting careers in genomics.
The first training session was conducted in July this year and due to the overwhelming response, KRISP conducted the second session earlier this month.
During training learners experienced working in a state-of-the art science laboratory with qualified scientists.
'I was excited to see the full involvement of these future scientists,' said Ms Gugu Mkhize, who co-ordinated the training.
Mkhize said they had received the following note from one of the participants, Ms Nikisha Naicker:
'Dear Gugu, I would like to thank you for letting me be a part of the PCR programme. I learnt a lot and I am more motivated than ever to pursue a career in the molecular biology field. I would love to attend future training programmes as I had a lot of fun learning about PCR and DNA isolation. This training programme has inspired me and has given me a better sense of the different possibilities around me.'
- Polymerase Chain Reaction (PCR) is a technique used in molecular biology to amplify a segment of DNA across several orders of magnitude, generating thousands to millions of copies of a particular DNA sequence. Since discovery decades ago, PCR triggered many valuable developments in several medical disciplines for example in disease diagnostics it allows crucial observations for organism detection.
News date: 2018-10-18
Links:
http://ndabaonline.ukzn.ac.za/UkzndabaStory/Vol6-Issue55/KRISP%20Training%20the%20Next%20Generation%20of%20Scientists