The prestigious 'Oscars' of the science, engineering and technology (SET) world took place on 21 July 2022. This, the 24th celebration of South African science, ingenuity, and innovation, is a shining light at a time when the world needs far more good news. The success stories that define this year's Awards stand out for many reasons, but perhaps the most powerful is how they all showcase how science can play a significant role in driving sustainable development, improving quality of life, and connecting people and communities.
This inspired the adoption of the special theme for the awards in 2022 — the International theme of the year, proclaimed by the United Nations: Basic Sciences for Sustainable Development — and the Special Annual Theme Award for someone who has achieved impressive work in this space. About all the Awards finalists, Jansie Niehaus, Executive Director of the National Science and Technology Forum (NSTF), explains: 'The basic sciences are not always in the public eye as they happen on computers, in people's minds and in universities, and yet they are incredibly important for all scientific, engineering and technological developments.'
The basic sciences form the building blocks for applied sciences, which are the rockstars often seen in public, and are often overshadowed as a result. 'Scientists working in the basic sciences work extremely hard, (as do scientists in applied fields) for years, even over a lifetime, and devote themselves to their work,' says Niehaus. 'The achievements in basic sciences deserve recognition and it's a privilege to give a Special Award in this regard. We look at how all the award winners, including this one, have contributed to solutions that are immensely relevant to South Africa and often play a role in solving problems and transforming communities.'
The NSTF-South32 Awards not only reflect South Africa's scientific achievements, but a positive transformation in the sciences as a whole. The finalists are people who have been seminal in their fields and transformative in their approaches.
The NSTF is the non-profit stakeholder body for all science, engineering, technology (SET) and innovation organisations in South Africa. Representing SET as a single body, it is an independent, collaborative platform that advances and embodies continued conversations around science.
The NSTF-South32 Awards 2022: The Winners
All awards are for an outstanding contribution to SET and innovation:
This year, the Data for Research Award goes to a team of science 'rockstars' at the Network for Genomics Surveillance in South Africa (NGS-SA) for their ground-breaking work with SARS-CoV-2. The team consists of virologists, scientists, bioinformaticians and clinicians and is responsible for the discovery of both the Beta and Omicron variants of the virus.
Prof. Tulio De Oliveira (CERI & KRISP), Dr. Yeshnee Naidoo (CERI), Sibusiso Blessing Khanyase (KRISP at UKZN) and Prof Carolyn Willianson (UCT) Recieved the NSTF Data Science Award in Cape Town.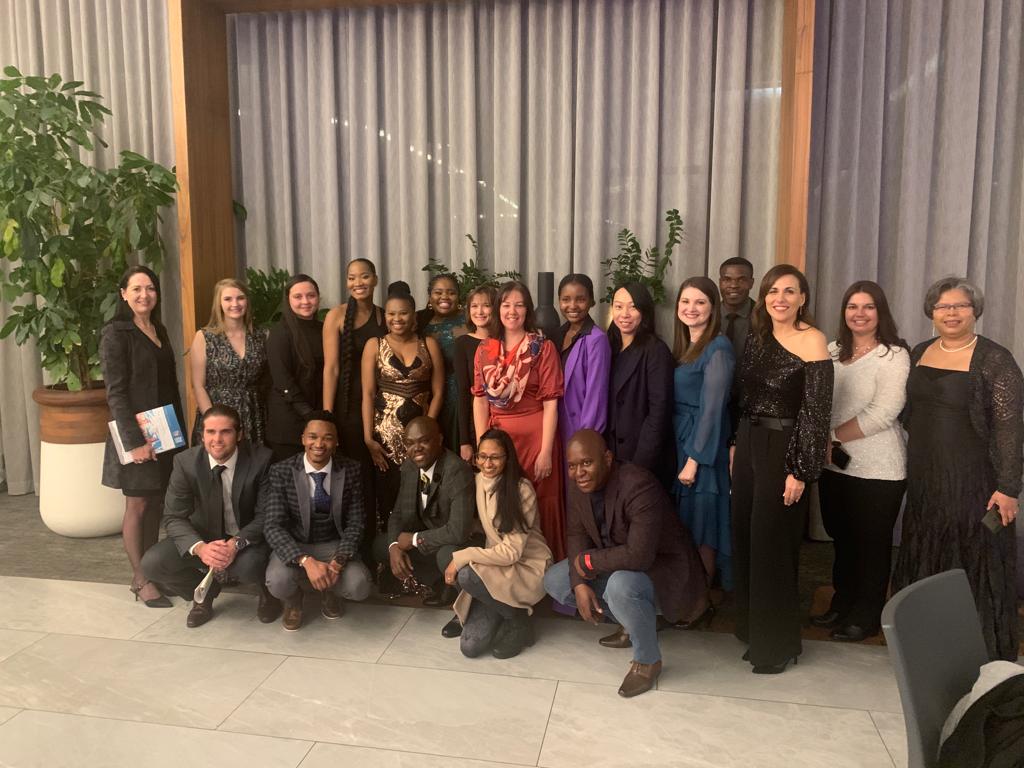 Dr. Jinal Bhiman (NICD) lead the NGS-SA team in Johannesburg receiving the NSTF Data Science Award
Lifetime Award
This Award recognises an outstanding achievement by an individual to SET and innovation in South Africa over a period of 15 years or more. This year Professor Shabir A. Madhi receives this well-earned accolade. He is the Dean: Faculty of Health Sciences, University of the Witwatersrand (Wits), the Professor of Vaccinology, School of Pathology, Wits, and the Director of the Wits and South African Medical Research Council Research Unit for Vaccines and Infectious Diseases Analytics. He has been at the cutting edge of research for life-saving vaccines since 1997 and led the first two COVID-19 vaccine trials in Africa.
Special Annual Theme Award: Basic Sciences for Sustainable Development
This Award is made in 2022 for an outstanding contribution to SET and innovation from research and development in the basic sciences for sustainable development. It was won by Professor Marianne Vanderschuren, Professor in Transport Planning and Engineering at the University of Cape Town (UCT), for her research into transport improvements for vulnerable road users that have saved more than 5 000 lives since 2009.
Science Communication Award
This Award recognises a communicator who has made a substantial impact on public awareness of SET. This year it is awarded to Dr Nnditshedzeni Eric Maluta, Coordinator at the Vuwani Science Resource Centre and HoD Physics at the University of Venda (Univen). He was instrumental in developing the Vuwani Resource Centre in the Vhembe district that focuses on education outreach programmes to previously disadvantaged people.
Non-Governmental Organisation (NGO) Award
Celebrating an exceptional contribution to SET from a non-governmental or non-profit organisation, this year the Award was won by CodeMakers for its dedication to developing the scientists of the future. The company started in 2015 as an NGO to bring the hands-on approach to science education and has grown in reach and impact ever since.
Awards for Innovation and Research and/or Development: Small, Medium or Micro Enterprise (SMME)
Over the past 10 years, Dr Jacobus Swanepoel and Thermtron Scientific CC have transitioned multiple mineral-processing and green technologies through all innovation stages, from laboratory through to pilots to commercially viable projects. The work done by this SMME has played a significant role in generating revenue and opportunities for the South African economy.
Awards for Innovation and Research and/or Development: Corporate Organisation
The Mining Positron Emission Technology (MinPET) project draws on nuclear and medical technology to find diamonds inside kimberlite rock, and is an online sensor-based detection process. Professor Simon Connell's participation (for South Africa) in the ATLAS Experiment at CERN led to this innovation. Team Leader: Prof Simon Connell; and Department of Mechanical Engineering Science, Faculty of Engineering and Built Environment, University of Johannesburg (UJ).
Data for Research Award
NSTF-Water Research Commission Award
This year, Professor Evans Chirwa won the NSTF-Water Research Commission Award for his work in the use of biological analogues in advanced water treatment and water recovery. His latest contribution was in the treatment of organic pollutants using synthesised photocatalytic nanomaterials.
Green Economy Award
Recognising an impressive contribution to SET in SA towards achieving biodiversity conservation, environmental sustainability and a greener economy, this Award was made to Distinguished Professor Guy Franklin Midgley, Head of the Global Change Biology Group, for his contribution to the understanding of the risks of climate change to endemic biodiversity and ecosystems.
Engineering Research Capacity Development Awards
Professor Sehliselo Ndlovu received this award for her remarkable work as a hydrometallurgical engineer, focused on ensuring a sustainable future supply of metals through improved processes and capacity.
Professor Wellington Didibhuku Thwala received the award for his impressive work in the area of sustainable construction management, digitalisation, design error containment and leadership within the built environment.
Management Award
Dr Boitumelo Semete-Makokotlela, Chief Executive Officer of the South African Health Products Regulatory Authority (SAHPRA), won the NSTF Management Award for being pivotal in establishing the Innovation Hub's Biotech Incubator. She was instrumental in authorising a number of COVID-19 diagnostic tests, vaccines and therapies to ensure the regulator was an enabler during the pandemic.
TW Kambule-NSTF Award: Researcher
Professor Tamiru Abiye, Full Professor of Hydrogeology at Wits, for being a dedicated water scientist who focused on building research capacity and solving community problems to attain sustainable development in South Africa.
TW Kambule-NSTF Award: Emerging Researcher
Dr Wynand Johan Goosen, Wellcome Trust Lecturer at Stellenbosch University (SU), won for taking a leadership role in South African research on the surveillance of zoonotic tuberculosis in domestic and wild animals.
Dr Banothile Makhubela, Senior Lecturer and Director: Research Centre for Synthesis and Catalysis at the University of Johannesburg (UJ), won for research into nano- and organometallic-catalysis directed towards green and sustainable chemical processes.
News date: 2022-07-21
Links:
https://mg.co.za/special-reports/2022-07-22-nstf-south32-awards-2022/